Winterwatch: Norfolk Blakeney Point seals filmed at night for first time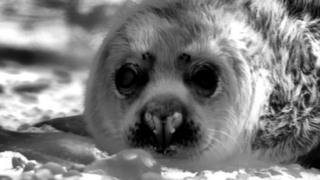 The "secret" nocturnal sex life of England's largest seal colony has been filmed for the first time by BBC wildlife cameras.
Military-grade thermal imaging cameras revealed young bulls "sneaking" into territories under cover of darkness to mate with mature bulls' harems.
The number of grey seal pups born at Blakeney Point in Norfolk reached an all-time high of 2,426 in 2014-15.
Winterwatch presenter Iolo Williams said the footage was "incredible".
"Sitting on the reserve under moonlight with more than 4,000 seals was the experience of a lifetime," he said.
"We were able to observe the younger bulls get in and mate with the females.
"The older bulls guard their harem against others and in the day they can see them coming, but at night the small, younger bulls were able to sneak in and mate and we didn't know this."
The wildlife team said it was a "privilege" to observe the colony at such close quarters.
Producer Bill Markham said: "It was fantastic. We didn't know what to expect. We had a few theories, but this camera allowed us to see in incredible detail at night."
Despite attempts for "highly charged illicit nookie" some of the younger bulls were scared off by the older males "body-slapping" on the sand.
A "unique behaviour" sees the males "lift themselves up and let themselves go so this mass of blubber slaps down against the wet sand to warn off other males", said Mr Williams.
"It was interesting to see what the males were doing - it's a highly competitive, highly charged environment," added Mr Markham.
"Twenty-six stones of seal slamming down reverberates through the sand and you could feel these shockwave rippling up the beach."
Mr Williams added: "We're able to show, for the first time, they do this a lot a night.
"We learn new things constantly when new technology becomes available to us.
"To observe the grey seals at night allows us to see behaviour that up until now just hasn't been available to us and we can use this to help their conservation."
The seal colony on the National Trust reserve in north Norfolk is now the biggest in England, with the population having exceeded pupping levels on the Farne Islands in Northumberland and Donna Nook in Lincolnshire.
Winterwatch returns to BBC Two at 21:00 GMT on Monday 19 January.