RAF Museum at Neatishead: Cold War missile restored to former glory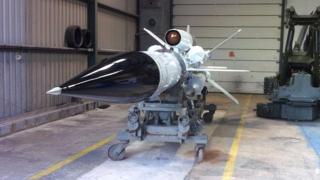 A weathered Cold War missile, which was once part of Britain's last defence against a Soviet air attack, has been restored to its former glory.
The Bloodhound Mark Two missile was acquired by the RAF Air Defence Radar Museum at Neatishead, Norfolk, in 1993.
It was displayed at the entrance to the museum but its paintwork had faded.
Museum curator Beth Condie said: "It is really exciting for the museum. It is a reminder of the Cold War - which was so important in defining the nation."
The missile has been prepared and primed by a panel beater and painted in its original white by Boyer's Body and Service Centre in Cromer, Norfolk.
The firm's managing director Matthew Boyer said he got involved in the project after a chance meeting with a museum volunteer.
"It is one of the strangest jobs we've had to do," he said.