Great Yarmouth Salisbury Residential Home fails five major categories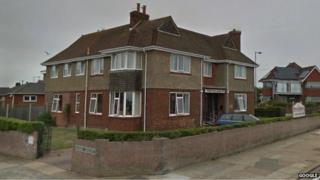 A residential home in Norfolk has been branded "inadequate" on five major counts by a care service watchdog.
Salisbury Residential Home in Great Yarmouth failed to provide services that were safe, effective, caring, responsive or well led, the Care Quality Commission (CQC) found.
The CQC inspected the home in November and has now told its owners to improve or face enforcement action.
The home said it had already been working on an improvement plan.
Inspectors criticised the quality and monitoring of the service at the care home which looks after elderly people.
Staff felt supported and were happy but leadership had "embedded an institutionalised culture" not in line with individual need or preferences.
Failure to protect
Too few staff were on duty at times and medicines were not kept safe.
Staff failed to have a good understanding of mental health legislation and legal safeguards.
Sue Howard, from the CQC, said: "We found that the care provided at Salisbury Residential Home fell short of what we expect services to provide.
"We have told the home they must take action to resolve the issues we identified.
"Although many people said staff treated them with kindness and compassion, we found examples where people's needs had not been met and where people had not been protected against risks.
"It is important that people always have a choice regarding their care but this was not always done at the service."
'Great benefit'
The home's manager Michelle Foreman-Rowe said a new team had already set to work on improvements following a previous inspection.
"Staff have worked closely with the local quality assurance team and the CQC inspectors to produce a further action plan to ensure the standards not met are addressed," she said.
"The new process of inspection is incredibly thorough and slightly daunting but ultimately it is of great benefit to The Salisbury Residential Home in terms of providing a dispassionate, informed external view of what we do well and what we need to focus on for the future.
"I was pleased to see that our staff have reported that they feel supported by the management team and that residents felt safe."