UEA students offered 'nap nook' for daytime snoozing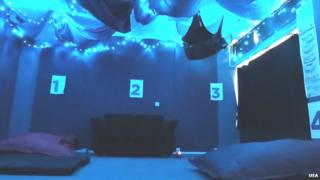 University students are being offered the chance to catch up on sleep between lectures in a "napping centre".
The University of East Anglia's (UEA) student union said its "nap nook" was the UK's first such facility in a university setting.
The idea is based on a facility at a US university, designed by a student there and run by its psychology department.
UEA students in Norwich are able to book a 40-minute "nap nook" slot in advance or walk in on the day.
The specially-fitted out room contains bean bags, sofa beds, anti-microbial pillows, eye masks and blackout curtains.
The room, which is open from noon to 18:00 each day, is monitored by CCTV.
The union's welfare, community and diversity officer Holly Staynor said students' sleep was being "squeezed hard" by the "busy demands" of their university lives.
She said the new facility would allow students to "recharge [their] batteries during the day", with the extra sleep bringing "massive positive impacts".
"We're talking better alertness, huge increases in memory capacity and ultimately scientific proof that we get better grades," Ms Staynor said.
The student union said 40-minute slots were chosen because "the goal was to promote healthy napping".
But union representatives had this advice for students who wanted to stay longer than the allotted time: "Go home. It's a nap nook, not a hostel."