Potters Holiday Resort norovirus outbreak costs £250,000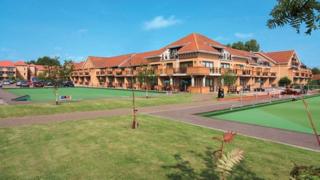 An outbreak of the norovirus winter vomiting bug at a holiday village, which affected over 100 guests, has cost the company at least £250,000.
Potters Resort at Hopton-on-Sea near Great Yarmouth closed on Monday after a number of cases the previous week.
The resort has undergone midweek cleaning and reopened to 750 guests on Friday afternoon.
Potters said the costs were a combination of lost trade and the clean-up operation.
A company spokesman said: "It spreads from person to person so we took the proactive decision to remove people from the resort by voluntarily closing to prevent any chance of further spread and to safeguard guests and staff.
"We contracted in a specialist company to disinfect and fog all areas and surfaces."
The company apologised for the inconvenience and said the closure demonstrated it "put people before profits".