1950s dementia day room plan for Norfolk and Norwich Hospital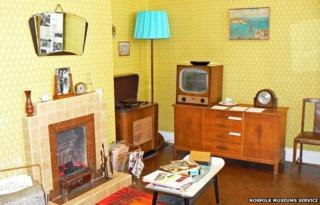 The "Golden Age" of the 1950s is set to be brought to a Norfolk hospital to help elderly dementia patients.
Julie Payne, who works as a sister at Norfolk and Norwich University Hospital, wants to transform a day room to help patients "relax and reminisce".
She is hoping to raise £5,000 to cover the cost of period wallpaper which meets infection control guidelines.
Other decorations and items of furniture will try to make the room "look as authentic as possible".
Many of the hospital's dementia patients are in their 90s, and it is hoped the room will evoke memories and spark conversations.
"We hope it will look welcoming and recognisably 50s style," said Ms Payne.
"We are planning to introduce vintage cups and saucers for tea parties to help stimulate conversations."
The hospital's fundraising manager, Louise Cook, said: "This is just one of a number of dementia projects which need charitable funding across the hospital.
"One in six people over the age of 80 have dementia. The more we can help fund projects like this one, which can support and provide a relaxed environment, the better it is for our patients," she said.