Norwich NHS chief Jonathon Fagge cleared of wife attack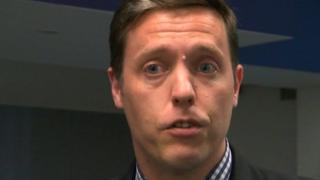 An NHS chief executive has been cleared of assaulting his estranged wife in an argument over a leather armchair.
NHS Norwich Clinical Commissioning Group head Jonathon Fagge attacked Katy Fagge while moving out of the marital home, Norwich magistrates heard.
She told the court she had been pulled out of a removal van by her husband and pushed to the floor four times.
Mr Fagge, 44, said he had been acting in self-defence and his wife had thrown herself on the floor.
Magistrates heard the argument took place in Long Stratton, Norfolk, on 1 October.
Rachel Scarrott, prosecuting, said it was a case of whether the court accepted the word of Mr or Mrs Fagge.
James Landles, for the defence, said no-one came out of the matter covered in glory, but Mrs Fagge's story did not add up. He said her injuries were consistent with with a fall she had earlier in the day when she had slipped on some tea.
It took three magistrates less than an hour to find Mr Fagge, of Paper Mill Yard, Norwich, not guilty.