Norfolk injured veteran's care cost to be reviewed by council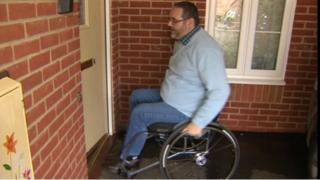 A policy of charging injured service veterans for care if their injuries were suffered before 2005 is to be reviewed by Norfolk County Council.
Keith Clarke, 43, injured his spine falling through a hatch fighting a fire on a Royal Navy submarine 15 years ago.
He was ordered to pay £100 a week from his service pension for care after a review in September but protested.
Harold Bodmer, Norfolk's director of adult social services, said he would examine the fairness of the policy.
Mr Bodmer would not make any promises but said he had been asked to review the policy relating to armed service veterans in the light of the publicity surrounding Mr Clarke's case.
He was also aware that several other councils in England and Scotland made allowances for service people.
"We just want to act fairly and to see if there is any discretion in our interpretation of the rules," he said.
Mr Clarke said he needs carers twice a day and the payment of £100 per week takes away half of a pension given as compensation for his injuries.
Veterans injured before 2005 received compensation under the War Pensions Scheme and councils can regard all these payments as income.
About 90% of councils are imposing the charge.
Under new rules for those injured after April 2005 payments under the Armed Forces Compensation Scheme are guaranteed and not threatened by other benefits.