Alan Partridge 'statue' in Norwich for Comic Relief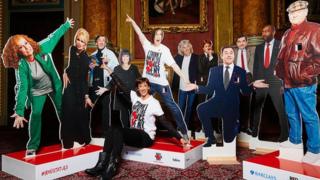 A "statue" of Alan Partridge is to be placed outside a Norwich shopping centre as part of this year's Comic Relief fundraising campaign.
Steve Coogan's fictional DJ will be collecting £1 donations outside intu Chapelfield.
"While there's nothing comic about my statue, it's a relief to have finally been recognised through the medium of sculpture," Partridge said.
Statues of other comic figures will be based around the country from Thursday.
These include Del Boy in Bristol, Edina and Patsy from Absolutely Fabulous in London, Billy Connolly in Glasgow, Dawn French in Milton Keynes, Lenny Henry in Birmingham and John Bishop in Warrington.
For Partridge it will be a homecoming to the city that has played a key role in his career, spanning TV, radio and film.
"Like me, the statue is strong, implacable, like a kindly Vladimir Putin - if you can imagine such a thing - with a shirt on," he said.
"And, like me, it'll no doubt be dumped on repeatedly! Although by pigeons, rather than fellow broadcasters."
Comic Relief co-founder Richard Curtis came up with the idea for the 10 "statues", which will collect donations made through contactless payment cards and mobile phone app.
"Since the beginning of Comic Relief I've asked hundreds of exceptionally talented and generous comedians to do strange things to raise money and this might be the oddest request yet," he said.
Red Nose Day is on 13 March.