Soldier's love letter found in Norwich sewing machine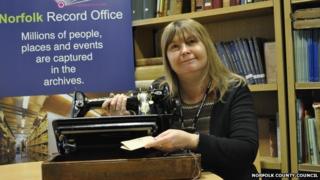 The author of a 69-year-old love letter is being sought after it was found in a secret compartment of a sewing machine.
The machine was donated to a charity shop in Norwich and was sent by a soldier to his wife back in 1946.
In the letter, Harry wrote to his wife Jess about the pain of their separation and of losing his eye.
Norfolk County Council's record office has asked for help with finding out more about the couple whose secrets have been hidden away for 50 years.
Gary Tuson, county archivist, said the love letter had prompted a great deal of interest, and he hoped Norfolk residents could shed some light on this wartime love story.
He said: "This letter is symbolic of the times in which it was written and was discovered in Norfolk, which is why we've decided to include it in the Norfolk archive.
"It would be fascinating to find out more about Harry and Jess, whether the family lived in the county, and how the sewing machine ended up in a Norwich charity shop."
Eye injury
In the letter, Harry writes from "Number Nine Ward, you know where" and describes that he has lost an eye since he last saw his wife.
"What changes in me you will find I don't know, maybe the old husband you knew or maybe a better one," he wrote.
"Really speaking the loss of one eye is not such a handicap as you might think, so please when I come home don't make me think I've only brought half a body home.
"You see what I want to do is forget I ever lost it..."
Mr Tuson said one comment on its Facebook page revealed the old Norfolk and Norwich Hospital's eye unit was Ward Nine, prompting speculation that Harry had been taken there in 1946.