Norfolk and Suffolk mental health trust rejects mutualisation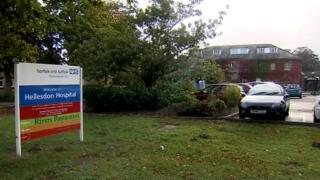 The mental health trust for Norfolk and Suffolk has withdrawn from a government scheme to help it move out of NHS control after "privatisation" fears.
The Norfolk and Suffolk Foundation Trust (NSFT) was looking at becoming a mutual.
This would have enabled it to become owned by stakeholders including staff, as opposed to being wholly NHS-owned.
The NSFT said staff were concerned about "a risk of privatisation". The government said it was "disappointed".
The trust is the second of nine in the region to pull out of the scheme, after the BBC revealed on Saturday that Norfolk and Norwich University Hospital (NNUH) had made a similar decision.
The mutualisation scheme was introduced by Cabinet Office minister Francis Maude and health minister Norman Lamb to improve staff morale and engagement.
Michael Scott, chief executive of the NSFT, said: "There has been a level of misunderstanding about the project. We can see that this has led to concern among our staff about a risk of 'privatisation of the NHS'.
"We are clear that our trust's priorities are improving the quality of our services and improving staff morale, by making the trust a better place to work. Anything that might create a distraction to these priorities is not for us at this time."
Carol Briggs, joint Unison NSFT branch secretary, said: "All our staff want is to have the resources that they need to provide high quality care for everyone who needs our service. We hope this move signals a fresh approach from the board in responding to the genuinely held concerns of staff."
A Department of Health spokesman said: "We are disappointed that Norfolk and Suffolk NHS Foundation Trust has decided to withdraw from the programme which was set up to explore the potential of better staff engagement and mutualisation, especially when all the evidence shows mutuals in the health sector empowers staff and results in better care. "