Dog punch man hunted after Norwich street attack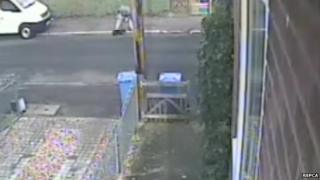 Named suspects are being sought in the hunt for a man seen repeatedly punching a dog in a Norwich street.
CCTV footage showed the man striking the unknown breed four times after attaching a lead in Jex Road.
RSPCA inspector Laura Sayer said the punches were landed with "considerable force" and the dog showed "clear signs of fear".
The RSPCA said a "number of names" had been put forward in connection with the attack at 13:30 GMT on 9 February.
The charity said it had not been able to establish the breed of the dog but it was believed to be a "bull breed type", with white markings on its front leg and chest.
The dog is seen wandering loose in the footage, filmed from a camera at a nearby property. The man punches the animal four times on the side before attaching a lead to its collar.
An RSPCA spokesman said: "We have had several names put forward and we are investigating.
"We are pleased that there has been such a strong response from the public to what happened."
He said no arrests had been made.