Herbie Hide mansion death: Tafadzwa Khan inquest opens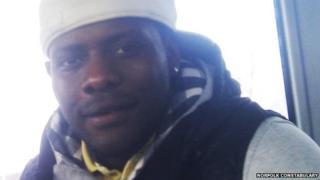 Two men were seen with knives during a party at a former world boxing champion's home where a third man was stabbed to death, an inquest has heard.
Tafadzwa Khan, 25, known as Taffy, was found dead after the party held at Herbie Hide's Bawburgh home in 2012.
Norfolk Police charged partygoer Joshua Burton with murder but the case was later dismissed.
An inquest into the killing at Norwich Magistrates' Court heard conflicting accounts of Mr Khan's death.
Mr Khan's stepfather, John Sinclair, from Bushey in Hertfordshire, attended the hearing.
He is hoping the coroner will conclude the killing was unlawful, prompting the police to consider a fresh prosecution under joint enterprise laws.
The party had been arranged to celebrate the 50th birthday of Mr Hide's close friend, Alvin Prescod.
'Don't die on me'
It is understood Mr Hide had been there earlier in the night but was not present when the killing happened.
Mr Prescod told the inquest the party had been going well until a fight broke out.
Describing the victim as a "quiet" man who would not trouble anybody, he said: "I went over and said 'please Taff, don't die on me'.
"But he was gone.
"One minute he's at my party having a good time, the next he's in a black body bag.
"I just want justice for Taff - Taff must get justice."
After the incident, he said he saw Mr Burton leaving the scene.
"I saw him walking towards me and his sleeve was covering his right hand and I could see a knife blade," he said.
"I'm not saying because he had a knife that he's a killer but he had a blade and ran off after I told him what's what."
Witness Steven Miller told the court he saw Brandon Rodney-Lawrence - known as Ace - stab the victim "four, five, six, seven" times.
Mr Rodney-Lawrence said he saw Mr Burton punch Mr Khan but did not see any knife.
He repeatedly answered "I don't remember" when asked questions about further details.
The inquest, expected to last three days, continues.