Herbie Hide mansion death: Witnesses urged to break silence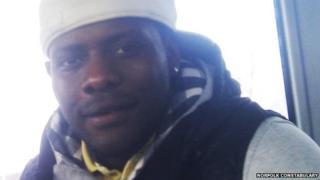 A coroner has urged witnesses to break their silence after ruling a man was killed in an "unprovoked" attack at the home of an ex-world champion boxer.
Tafadzwa Khan, 25, known as Taffy, was found dead after a party at Herbie Hide's Norfolk mansion in March 2012.
An inquest heard a man who had been accused of murder refused to answer questions from coroner Jacqueline Lake.
Ms Lake said she could not be certain Mr Khan was the victim of an unlawful killing.
She recorded a narrative conclusion that Mr Khan died after being stabbed three times in an "unprovoked" assault.
Police charged party-goer Joshua Burton, then aged 20, with murder but the case was later dismissed.
Ms Lake said: "It is clear that Mr Khan was stabbed and the assault was not in self-defence. There is no evidence that he was acting in an aggressive or provoking manner.
"If anybody has any information, they should come forward."
Mr Khan's stepfather, John Sinclair, 62, from Bushey, Hertfordshire, hoped the inquest would reach a conclusion of unlawful killing.
"It is just the wrong verdict from the coroner," he said, speaking after the inquest held at Norwich Magistrates' Court. "She may not be able to say who was responsible, but it is clear that he was killed for no legal reason.
"We will continue to fight for justice."
He said Mr Khan, who moved to the UK from Zimbabwe in 1998, was a "peaceful, lovely young man and did nothing to deserve this".
The party had been arranged to celebrate the 50th birthday of Mr Hide's close friend, Alvin Prescod.
Giving evidence, Mr Burton accepted he was at the party but repeatedly refused to answer questions from Ms Lake.
Witnesses had said they saw him carrying a knife. Asked about this he said: "No comment".
Asked if he stabbed Mr Khan, he repeated: "No comment."
Witness Steven Miller said he saw Brandon Rodney-Lawrence - known as Ace - stab the victim "four, five, six, seven" times.
Mr Rodney-Lawrence said he saw Mr Burton punch Mr Khan but did not see any knife.
Fellow reveller James Clough told the inquest he had taken a knife to the party but had lost it.