Norfolk's MIND charity staffs helpline for mental health patients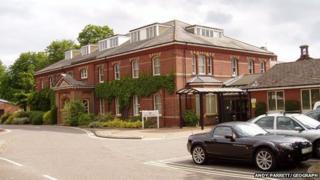 A mental health trust with 800 patients on waiting lists has a new crisis helpline run by a Norfolk charity.
The government funded service targets patients referred to Norfolk and Suffolk NHS Foundation Trust (NSFT) in the past 12 months.
The Trust, now in special measures over service failures, is working with Norwich and Central Norfolk MIND.
The charity will staff a 24-hour helpline to offer support to patients in need.
Care minister and North Norfolk MP Norman Lamb opened the helpline for unallocated patients or those who have been discharged for up to 12 months.
The charity said 90% of calls to NSFT's crisis team are from people who know they need help but are not in crisis.
'Service not safe'
More than 800 of people referred to the Trust have not been assigned care workers owing to staffing shortages, a recent report revealed.
The union Unison, which represents many Trust staff, said services had been "savagely cut".
Amanda Hedley, chief executive of Norwich and Central Norfolk MIND, said: "Our experienced and knowledgeable staff are available through the helpline to provide extra support and to help to stop people moving into crisis."
NSFT's director of operations for Norfolk Debbie White said: "Our crisis teams take a lot of calls from service users who aren't in crisis but would benefit from some more support and this helps our staff to focus on those in most urgent need."
NHS regulator Monitor is helping NSFT management to deliver an action plan after they became the first NHS trust of its type to be put into special measures.
The decision was made after the Care Quality Commission reported the trust was "not a safe... service".