Herbie Hide mansion death: Taffy Khan's mother 'outraged' over inquest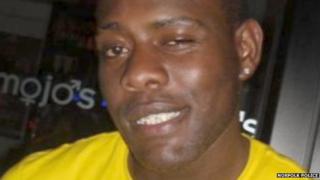 The mother of a man killed during a party at a boxer's mansion has said she is "outraged" his death was not found to be unlawful.
Tafadzwa "Taffy" Khan, 25, was found stabbed to death at Herbie Hide's home in Bawburgh, Norfolk, in 2012.
Coroner Jacqueline Lake told an inquest she could not be certain the "unprovoked" attack on Mr Khan amounted to an unlawful killing.
His mother Shereen Sinclair said his family felt "cheated" by the verdict.
About 200 people were believed to have been at Hide's mansion on 18 March, although police said the former heavyweight boxer was not there when Mr Khan died.
Police charged a 20-year-old man with murder, but the case was dropped in 2013 and Mr Khan's death remains unsolved.
Delivering her narrative verdict at the conclusion of Thursday's inquest, Norfolk coroner Ms Lake urged witnesses to break their silence.
Mr Khan's mother Shereen Sinclair said she was "absolutely outraged" at the verdict and her family felt "like we've been cheated by the system".
'Wall of silence'
"The hope I have is that the police would look at the people who made statements," she said.
"It's wasting time looking for other people to come forward as I don't think they're going to.
"I can see that 29 people made statements and to me that's not a wall of silence."
Norfolk Police reiterated their appeal for witness to come forward.
Det Insp Marie James said: "Time has passed since this incident and allegiances may have changed.
"People who felt they couldn't speak at the time, either feeling scared or intimidated, may feel differently now.
"I would appeal directly to those people to do the right thing and come forward - their help is vital in giving Taffy's family answers."