Bring David Home donations for Norfolk funeral for fire victim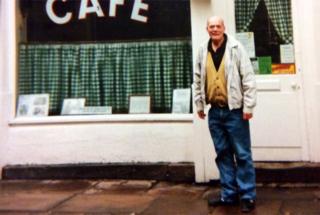 Friends and strangers have clubbed together to pay for the funeral of a man who always lived in Norfolk until he was rushed to hospital following a fire that ultimately took his life.
David Daniels, 72, was badly hurt in a blaze at his Norwich flat in January.
He was taken to Broomfield Hospital in Chelmsford, Essex - the only time he left Norfolk other than for holidays.
Pharmacist Maz Moaddabi launched the Bring David Home campaign because there was no-one to collect Mr Daniels' body.
Mr Moaddabi said about £1,200 has been raised and the funeral is to be held at Earlham Road Crematorium, Norwich, on 18 March.
Mr Daniels, who suffered serious burns in the blaze at his Vauxhall Street home, visited Mr Moaddabi's pharmacy each week to pick up his prescription.
But it was not until Mr Daniels did not come into the shop as usual that the pharmacist discovered the tragic truth.
'People care'
Mr Moaddabi, 45, said of the Bring David Home campaign: "There has been so much support.
"Just because you are alone doesn't mean you are alone... there are still people who care.
"Everyone knew him and people have come in from all over Norfolk to give money, even some of his old school friends who hadn't seen him for years and years.
"He had a brother but he is not well and so he didn't have anyone to claim his body from Essex.
"He was a very pleasant man and that's why we had to bring him home."
Norfolk Police investigated the fire and found it was "not suspicious".
The case is to be passed to the coroner.