Nicky Tweedy varicose vein surgery 'caused clot death'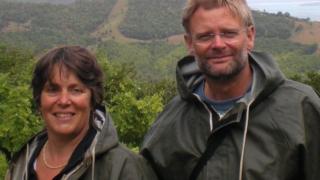 The husband of a woman who died of a blood clot after routine varicose vein surgery has said the family have been failed by the hospital.
Classroom assistant Nicky Tweedy, 54, of Pulham Market, died at home two days after the operation at the Norfolk and Norwich University Hospital (N&N).
Her husband Christopher said the hospital failed to "minimise the risk" to her after the procedure.
The hospital said it had commissioned an independent review.
Mr Tweedy raised his concerns after an inquest into her death held in Norwich.
Norfolk coroner Jacqueline Lake called for hospital staff to have the right training on discharging patients.
She ruled the death from a blood clot was a "rare but recognised risk" of the surgery.
The inquest heard Mrs Tweedy was taken home by her husband following the operation in March last year but two days later collapsed and died.
A post mortem examination showed the cause of death to be a pulmonary embolism (blood clot) due to recent varicose vein surgery.
Mrs Lake ruled the hospital did not fully consider the lack of mobility that would follow the operation, which meant the risk of clots was heightened.
She urged the hospital to have the right training in place to make sure thrombosis checks and discharging assessments were properly carried out.
Mr Tweedy said in a statement: "The N&N were required, by the NHS Charter, to provide a high standard of care to my wife and, in my opinion, they did not. They were required to do all that they could to minimise the risk to her and, in my opinion, they did not.
"The N&N vision statement is 'To provide every patient with the care we want for those we love the most'. In my opinion they most definitely failed to fulfil that vision for my wife, for the person we loved the most."
The N&N Trust said in a statement: "Mrs Tweedy received treatment in accordance with nationally accepted practice. She died of a rare but recognised complication of surgery, estimated to occur in approximately 0.01% of cases, in other words one in 10,000 patients. Whilst it is possible to reduce the risks of surgery they can never be eliminated entirely.
"The trust commissioned an independent review in order to identify any ways in which we could improve our services. Once we have the coroner's recommendations we will review these to identify any further opportunities for improvement."