King's Lynn fire: Family homeless after lighter refuelling blaze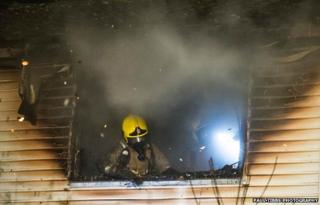 A family has been left homeless after a fire, believed to have been started by the refuelling of a cigarette lighter, spread through a house causing an explosion.
Fire crews were called to the house in Winston Churchill Drive, King's Lynn, Norfolk, about 01:40 GMT.
Tony White, from Norfolk Fire Service, said the fire "spread rapidly" as the house's gas supply was affected.
Neighbours either side of the property, in a row of four, had to be evacuated.
A man, his wife and three children who lived in the house were treated at A&E after inhaling smoke.
Mr White, station manager in King's Lynn, said the man was refilling his gas lighter when "somehow this caught light setting the kitchen on fire, it then rapidly spread through the property.
"The fire compromised the gas supply to the house and that contributed to the rapid spread of the fire.
"We were told there was a small explosion, which we assume was the gas canister being used to refuel the lighter."
Three fire engines attended the blaze.
"The crew did a fantastic job of keeping the fire in just one property," said Mr White.
"The is no question this could have very quickly spread to the adjoining properties if we hadn't taken immediate action."