Clive Howard: Norfolk and Cambridgeshire sex attacker caught after 30 years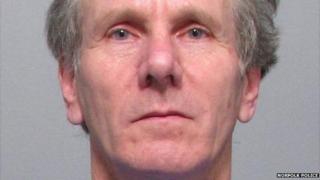 A serial sex attacker who "preyed" on women walking alone at night has pleaded guilty to a number of offences dating back nearly 30 years.
Mechanic Clive Howard, 57, of Stowmarket, Suffolk, admitted rape, attempted rape and attempted kidnap at Norwich Crown Court.
The attacks, including an assault in a car park, took place in Norfolk and Cambridgeshire between 1986 and 2014.
Police said women were safer with this "dangerous" man off the streets.
Howard, of Bury Street, was due to stand trial on Monday for a rape in a Norwich car park but admitted the charge before it began.
He had already admitted six other counts of rape, one count of attempted rape and three counts of attempted kidnap.
The offences involved six female victims.
He was caught after he offered a woman in her 20s a lift as she made her way home following a night out in Norwich last May.
Police said he then drove her to St Helens Wharf car park, near the Adam and Eve pub, and raped her.
Officers were able to get part of the number plate for his Volvo from CCTV footage.
Howard's offences
Six counts of rape against a woman in Ely between November 1986 and March 1993
Attempted kidnap of a woman at 02.15 BST in Glisson Road, near to the junction with Lynwood Road, Cambridge, on 5 May 2013
Attempted rape of a different woman at 02:45 BST at Christ's Pieces, Cambridge, on 5 May 2013
Attempted kidnap of a women at 02.00 BST in Cavendish Road, Cambridge, and another woman at 04:40 BST in Clarendon Road, Cambridge, on 15 February 2014
Rape of a woman in St Helens Wharf car park, Norwich, on 30 May 2014
Following his arrest, Howard's DNA was put on the national database.
It revealed a match to an unsolved case in Cambridgeshire in 2013 in which he attempted to kidnap a woman in her 20s.
On investigation, detectives found "striking similarities" to the rape in Norwich.
During the Cambridgeshire attack the victim had retrieved Howard's DNA under her fingernails when she scratched him while trying to fend him off.
He was then found to be linked to other cases in Cambridgeshire.
Police believe there may be more victims and are appealing for women targeted by Howard to come forward.
He will be sentenced on 20 April.