Norwich jeweller's attic reveals secrets of hidden past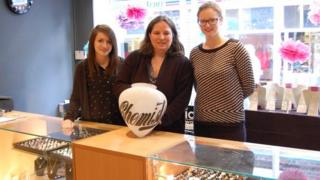 Staff at a jewellery shop inadvertently stumbled upon a trove of century-old artefacts while they searched for a space to store paperwork.
A lamp which used to hang outside Nova Silver, in Norwich, when it was a Victorian chemist's shop was one of the items uncovered.
Records of over-the-counter opium and cocaine sales were also among the "hidden hoard" discovered above the Lower Goat Lane shop.
The items span several decades.
Manageress Alex Nelmes said they had stumbled across the historic items while looking for somewhere to store their own archived accounts.
Ms Nelmes said one member of staff had spotted the lamp while inspecting the loft space.
"She had climbed up on a ladder and could see the lamp, but had to use a ruler to help reach it," she said.
"It was clear that we had found something really interesting."
The ledgers, which were paper-bound books slightly larger than a modern A4-sized pad have been well-preserved, despite their age, Ms Nelmes said.
One, dating back to 1918, detailed sales of cocaine and opium to local customers, complete with their names and addresses.
Some contained invoices and details of payments made to staff.
Staff also found pamphlets detailing methods for administering medicine to sheep and horses, from a time when chemists provided drugs for animals too.
The Norfolk Record Office and an archivist for Boots revealed the shop was a chemist as long ago as 1895, Ms Nelmes said.
Store owner Julie Wallace appealed for help to identify other mystery items and asked anyone who can recall more of the street's history to contact them.
"It really needs someone to look through it properly, an archivist, who knows how to best preserve them," she said.