Norfolk childminders' anger over 'free hours' funding changes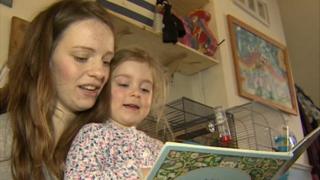 Childcare workers in Norfolk have said they are angry about a cut in their funding for some pre-school children.
The county council is to reduce the hourly rate it pays to qualified childminders for three and four-year-olds.
Nationally parents are entitled to claim 15 hours a week of free care after their child turns three.
But the council said Early Years funding was not being cut but would now be extended to more childminders.
'Taken advantage'
It said the qualification levels for childminders had been lowered after a change in government policy and so more workers would be entitled to offer the free hours from 1 April.
However, childminder Becky Laudan, from Norwich, said the drop in the hourly rate could force some workers to withdraw their current places for the age group.
She said: "We all received an email from Norfolk County Council at the end of February, telling us that our hourly funding rate would be cut from £5.06 an hour to £3.30 - that's the funding rate for three and four-year-olds - for their 15 hours free.
"We are not treated as a professional workforce and it feels like the council has taken advantage of the isolated nature of child carers.
"I'm angry, disappointed and worried about how it is going to impact."
In a statement, Norfolk County Council said: "It has been necessary to change the rate to childminders to bring the rates in line with other providers.
"There has been the removal of the ability to only fund childminders with a level three qualification or above... which was acting as a barrier for many childminders to be able to claim funding."
The council added that it hoped disadvantaged children and those living in rural areas would be able to benefit from more childcare workers.