Great Yarmouth house fire deaths murder-suicide, inquest hears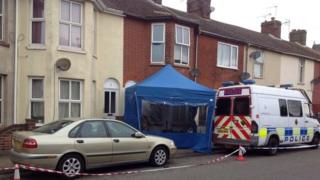 A husband stabbed his wife to death in their Norfolk home before setting fire to himself, an inquest has heard.
A single stab severed Mariama Jallow's jugular vein at the house in Admiralty Road, Great Yarmouth, but 36 other wounds were found on her neck.
Afterwards Mbye Jallow went to a bedroom to douse himself in petrol, which he ignited using a lighter.
Coroner Jacqueline Lake recorded a verdict of unlawful killing on Mrs Jallow and suicide for her husband.
A post-mortem examination revealed Mr Jallow had died from inhaling fire fumes.
The inquest was told the husband had also inflicted several other stab wounds to his wife.
She had tried to defend herself and received further injuries to her limbs.
The smoke was seen by a passing driver and by neighbours.
The fire service was alerted and the crew found the two bodies inside the house.
The reason for the argument will never be known, but the couple had debts, and had made many unsuccessful attempts to start a family, the inquest heard.