Ian Church murder: Convicted trio claim misidentification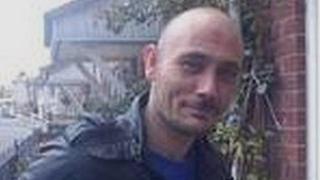 Two men and a woman jailed for life for murder following a mass brawl outside a Norfolk seaside pub claim to be victims of mistaken identity.
Stuart James Layden, 32, Roy Smith, 34, and Kelly Samantha Taylor, 36, told the Appeal Court they played no part in the murder of Ian Church, 40.
He suffered bleeding on the brain after the fight in Great Yarmouth in May 2012 and never regained consciousness.
The judgement on overturning the three convictions will be announced later.
The incident took place outside the Bricklayers Arms in Nelson Road Central, Great Yarmouth.
Smith, of Ranelagh Road, Sheerness, Kent; Taylor, of Harris Road, Sheerness, and Layden, of South Quay, Great Yarmouth, were convicted of murder in April 2013 at Norwich Crown Court.
Help for victim
Their lawyers at the Appeal Court said they were convicted on "weak" evidence, Lord Justice Burnett, Mr Justice Gilbart and Judge Richard Griffiths-Jones, heard.
Mr Church and his friend Peter Blake had been out for the evening on the seafront.
Mr Blake was assaulted by a group of pub customers and it developed into a mass brawl, the court heard.
Mr Church was punched, kicked and stamped on, and a bar stool was used to bludgeon him.
He died several days later while on a life support machine.
The only witness to identify Smith and Layden had been viewing a milling group of 15 or 16 people from 50ft (15m) away and through a window.
The account was "weak, self-contradictory, unsupported and out of line with all the other evidence", the court heard.
Taylor's lawyers admitted she had been around the fracas, but insisted that she was only trying to help the victim.
"Kelly Taylor was positively acting to stop violence towards Mr Church," her barrister said.