More women come forward after Suffolk attacker's conviction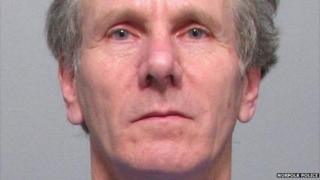 More women have come forward to make allegations following the conviction of a sex attacker whose crimes date back 30 years.
Mechanic Clive Howard, 57, of Stowmarket, Suffolk, admitted rape, attempted rape and attempted kidnap at Norwich Crown Court earlier this week.
The attacks took place in Norfolk and Cambridgeshire between 1986 and 2014.
Norfolk Police said they had received a "number of calls" since Howard's guilty pleas.
Howard, of Bury Street, was due to stand trial on Monday for a rape in a Norwich car park, but admitted the offence before the trial began.
He was caught after he offered a woman in her 20s a lift as she made her way home following a night out in Norwich in May.
'Encouraged'
Police said he drove her to St Helens Wharf car park, near the Adam and Eve pub, and raped her.
He had already admitted sex offences involving five other women.
Det Sgt Chris Burgess said: "Norfolk Constabulary has received a number of calls from women following the conviction of Clive Howard.
"Enquiries are under way to determine whether any of those who have made contact are victims of Howard.
"We are encouraged that people have had the confidence to come forward and seek to reassure victims of sexual assault that we will investigate offences thoroughly and sensitively, regardless of when it happened."
Howard is due to be sentenced on 20 April.
Howard's offences
Six counts of rape against a woman in Ely between November 1986 and March 1993
Attempted kidnap of a woman at 02:15 BST in Glisson Road, near to the junction with Lynwood Road, Cambridge, on 5 May 2013
Attempted rape of a different woman at 02:45 BST at Christ's Pieces, Cambridge, on 5 May 2013
Attempted kidnap of a women at 02.00 BST in Cavendish Road, Cambridge, and another woman at 04:40 BST in Clarendon Road, Cambridge, on 15 February 2014
Rape of a woman in St Helens Wharf car park, Norwich, on 30 May 2014