Medieval stone head found at Norfolk church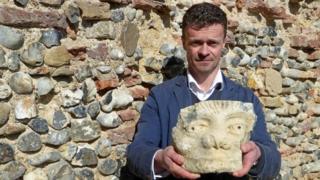 A "beautifully carved" limestone head, believed to date from the 11th Century, has been discovered "hidden" at the top of a Grade II* church tower.
The decorative water spout was found embedded in stonework during £140,000 restoration work at St Margaret's Church, Hopton-on-Sea, Norfolk.
Project director Darren Barker said it was a "fantastic chance finding".
The head is thought to have been part of an earlier church which was demolished in the later middle ages.
Mr Barker spotted the top of the head during work to consolidate and conserve the building.
He said: "Looking at the large eyes, nose and non-existent forehead, it is mostly likely to be Romanesque and probably dates from the 11th Century."
Norfolk does not have a local source of building stone, so he believes the limestone was shipped from Caen in France.
"Stonework like this was often re-purposed over the centuries," said Mr Barker.
"We have found bits of window tracery and door jambs in the fabric of the ruined church, but to find a figurative carving is particularly special."
The church, which is on English Heritage's buildings at risk register, was remodelled and the 50ft (15m) tower added in the 13th or 14th Centuries.
A 10-week long conservation project is under way, led by Great Yarmouth Preservation Trust, and working with Hopton-on-Sea Parish Council.
The trust hopes to put the head on display.
St Margaret's Church is known as Hopton Ruined Church having burned down in 1865.