Hewett School: Hundreds protest over academy plans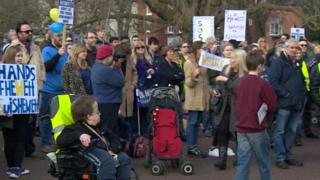 Hundreds of campaigners have marched through Norwich in protest at plans to turn the last council-run secondary school in the city into an academy.
Supporters of the Hewett School are angry at moves to hand it over to a private business claiming the plans are against the wishes of local people.
Protestors said they had concerns the school would become "an exam factory".
A recent Ofsted report found "immediate change" was needed at the school, the Department for Education (DfE) said.
Among the failings it found the students' achievement was inadequate and governors had failed to hold the school's leaders to account for a decline in standards.
A DfE spokesperson said "acting decisively on underperformance is a key part of our plan for education" and "becoming an academy with the support of a strong sponsor is the best solution to bring about rapid and sustained improvement..."
More than 1,300 people have signed a petition to the education secretary saying the school should remain under local authority control.
Parent Joanna Smith told BBC Look East during the lunchtime protest, she was angry because "the school belongs to the people of Norwich and it's actually being given to a private business, it's not even being sold to them".
George Nobbs, leading of Norfolk County Council, said: "The fact the government says they offer a choice for parents and yet this is the last school in the Norwich area that's not an academy and they want to extinguish that last chance of choice."