King's Lynn NHS boss Karl Perryman guilty of stalking colleague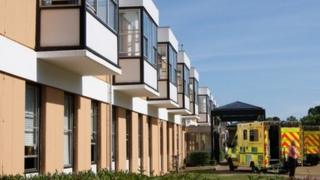 A senior NHS manager who sent "dark and spiteful" notes to a colleague after becoming infatuated with her has been found guilty of stalking.
Karl Perryman, 52, was head of complaints and legal services at King's Lynn's Queen Elizabeth Hospital when he wrote the letters.
He told colleague Joanne O'Neill she had "slept her way to the top".
Judge Mr Justice Coleman told Perryman he could face jail when he is sentenced on 17 April.
A jury at King's Lynn Crown Court also found Perryman guilty of intimidating a witness.
Perryman, who lives in Elvington, King's Lynn, met Ms O'Neill when she went for what turned out to be an unsuccessful job interview at the hospital.
But the jury was told Perryman later phoned her and, during an hour-and-a-half conversation, promised to find her a role there.
'Deplorable conduct'
She subsequently became a complaints manager at the hospital.
The first of eight abusive letters was sent in December 2012 after Ms O'Neill began a relationship with the hospital's deputy director of ICT, who she has since married.
Letters were also sent to Ms O'Neill's mother and to other managers at the hospital.
They purported to be from an anonymous Christian woman who wanted to put a stop to Ms O'Neill's "deplorable" conduct, but were traced to Perryman.
Prosecutor Jude Durr told the court the letters all concerned "rank, status, sex, lying, cheating, flirting, dressing inappropriately and reaping what you sow".
He said Ms O'Neill became "genuinely frightened" by the ordeal.