Doctor placed 'do not resuscitate' notice on Norfolk man, inquest told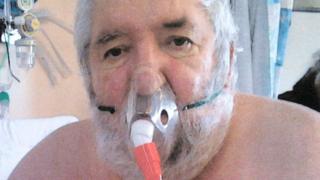 A doctor placed a "do not resuscitate" notice on a man without any consultation because she believed it was "futile and cruel" to try to keep him alive, an inquest heard.
Michael Richardson, 66, a great grandfather, of Great Yarmouth, died at James Paget University Hospital in Gorleston on 27 October 2013.
He had been ill for several years with the lung condition pulmonary fibrosis.
His widow Janet said the hospital had been "playing God with his life".
Dr Anna Blackburn, a consultant specialising in respiratory medicine at the hospital, said she had made the decision when he was admitted on 24 October.
She said Mr Richardson, a metal polisher and gardener, had little chance of surviving a cardiac arrest, and attempting to save him would have been "futile and cruel".
"We had discussed his condition. He cried and he seemed quite upset about how it would affect his wife," she said.
"I felt bringing up resuscitation would be even more distressing for him."
Wife challenged doctor
Patient confidentiality meant that she could not approach Mr Richardson's family without first talking to him, the inquest was told.
The hospital's policy was not to discuss such a decision if it would be "unnecessarily burdensome" for the patient.
This was changed in light of a 2014 Court of Appeal ruling that patients should be informed of the decision, unless this would cause physical harm.
"If I was faced with Mr Richardson today, I would have that discussion," Dr Blackburn said.
Mrs Richardson, 66, challenged the doctor, and said: "My husband had a lot to live for, even if it was for another week - I'm sorry [but] your decision was very, very wrong."
The inquest continues.