Sean Sands: Hunstanton kite surfer drowned, inquest hears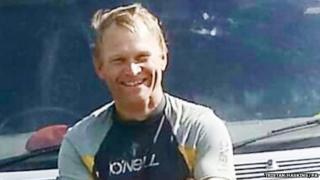 A kite surfer who was unable to trigger his craft's emergency safety mechanism died of asphyxiation caused by drowning, an inquest has heard.
Sean Sands, 49, of Heacham in Norfolk, was pulled unconscious from the sea off Hunstanton and airlifted to hospital in King's Lynn, where he died on 7 March.
Assistant coroner David Osborne opened the inquest in Norwich on Wednesday and set the hearing for 6 July.
Mr Sands was a member of Hunstanton Sailing Club.
In a statement released at the time of his death, the club said: "Sean lost control of his kite and for reasons not known to us yet, was unable to trigger his emergency quick release.
"Hunstanton Sailing Club have lost a true brother, a friend to so many and one of life's genuinely effervescent characters."