Film firm's plans for former RAF Coltishall base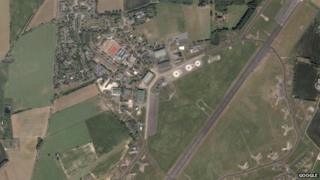 An independent film and television production company has put forward plans to take over a former RAF building- creating 20 new jobs.
October Films has applied to use a building at Scottow Enterprise Park (formerly RAF Coltishall), in Norfolk, for television production work, which it says will create 20 jobs.
The plans are being backed by Norfolk County Council, which owns the site.
The scheme will be looked at by North Norfolk District Council.
'Exciting possibilities'
October Films said it aimed to use the old Jaguar Simulator building to assist them in their filming of a new factual crime drama, Serial Killer - Angel of Decay and has applied for a five-year lease.
Line producer Vaughan Watkins said: "We are very much looking forward to coming to the former RAF base. The possibilities for our filming are very exciting, with many new locations."
Bev Spratt, chair of the county council's economic development sub committee, said: "The former Jaguar Simulator building lends itself brilliantly for film and TV production use.
"It is a deceptively large building which includes a mixture of offices and really quite big rooms.
"From the time we acquired the site we have had interest from film-makers."