Cliff Jordan elected Norfolk council Conservative leader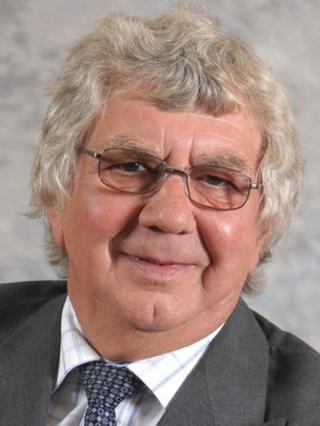 The Conservative opposition group on Norfolk County Council has chosen a new leader, its fourth since 2013.
Cliff Jordan, 69, who ran a landscape gardening business before turning to politics, was elected at the group's annual meeting on Friday.
He replaces Tom FitzPatrick who held the post for 10 months.
Mr FitzPatrick replaced Bill Borrett who took over when Derrick Murphy stood down in controversial circumstances in February 2013.
Mr Jordan, who lives in Dereham and represents Yare and All Saints, will lead a Conservative group that dominated the council for decades but lost control in the elections of May 2013.
The authority is now controlled by an alliance of Labour, Liberal Democrats and UKIP supported by the Greens.
The Conservative group said Norfolk-born Mr Jordan had been chosen to lead it through the build-up to the general election.
"The next year is going to be very difficult," said Mr Jordan.
He is the latest in a succession of leaders to follow Mr Murphy, who resigned in February 2013 after a council standards committee found he had brought his office into disrepute in a row with West Norfolk Council over a controversial King's Lynn waste incinerator project that was later abandoned.
Analysis by BBC East Political Correspondent Andrew Sinclair
Life at County Hall has suddenly become a lot livelier.
The man who once said he was "proud to be called a swivel-eyed loon" - after a senior party official allegedly said that about the grass roots membership - is now opposition leader on Norfolk County Council, charged with turning around his party's fortunes.
I am told that there were sharp intakes of breath in some Conservative circles when his election was announced.
Cliff Jordan is, by his own admission, a larger-than-life-character: a straight-talking, no-nonsense Norfolk boy.
He spars with people on Twitter every day, and in recent weeks has insulted Green party leader Natalie Bennett and UKIP MP Douglas Carswell.
In the past he has been rude even to fellow Tories Henry Bellingham and Environment Secretary Liz Truss.
He is the fourth leader of his party in two years, a sign of how divided and frustrated many Tories on the council feel.
Ever since the row over the incinerator and their subsequent defeat in the 2013 local elections, they have been in need of strong leadership.
Plain-speaking Mr Jordan will not always be on message. But he's a different type of leader and he might be just what Conservatives in Norfolk need.