Norwich Cathedral peregrine falcon lays first egg of season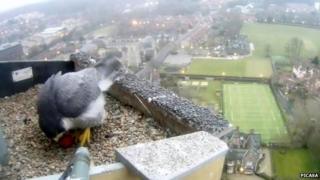 A breeding pair of peregrine falcons perched in a nestbox high on the spire at Norwich Cathedral have produced their first egg of the season.
The Hawk and Owl Trust has invested £5,000 in new cameras to record events this year.
The first egg arrived early on Thursday morning and the next one was expected on Saturday, the trust said.
"The parent birds will wait until all eggs are laid before they will start to incubate the clutch," a spokesman said.
"They just keep the first eggs warm and viable. This ensures that the chicks hatch roughly at the same time ensuring relatively even development."
Press officer Lin Murray said: "Millions of people from Norfolk, England and worldwide have taken these wonderful birds to their hearts and will be following the trials and tribulations via our website."