Norwich Cathedral peregrine lays and protects second egg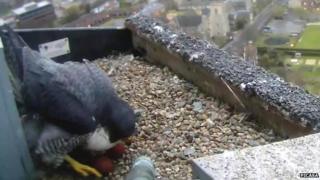 A second egg has been produced by a peregrine falcon in a nest box perched high on the spire at Norwich Cathedral.
The Hawk and Owl Trust said it spotted the female with the two eggs on its CCTV camera at 17:12 GMT on Saturday.
A first egg arrived on Thursday morning but the falcons were not expected to incubate any until a clutch was produced, volunteer Dave Gittens said.
He said the male falcon could be seen entering the nest twice, first to see the egg and then to bring food.
"He appears to be trying to get the female off the nest so he can cover the eggs but it doesn't work."Mr Gittens said.