Sodexo probation workers 'to be cut by a third'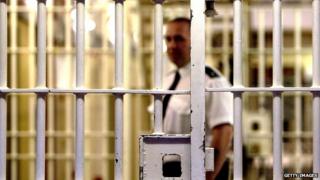 About a third of probation workers employed by a private company could lose their jobs, a union has said.
Sodexo Justice Services, in partnership with charity Nacro, was awarded the government contract to take over the monitoring of low and medium-risk offenders in six areas in December.
Probation union Napo says about a third of the approximately 1,600 employees are to lose their jobs.
Sodexo said it was consulting staff on its plans so would not comment.
The company runs six community rehabilitation services (CRCs) across:
Bedfordshire, Northamptonshire, Cambridgeshire and Hertfordshire;
Cumbria and Lancashire;
Essex;
Norfolk and Suffolk;
Northumberland; and
South Yorkshire.
When announcing the 21 contracts across England and Wales, the government said it hoped the partnerships between companies and charities would turn more offenders away from crime.
Napo said each area run by Sodexo employed up to 400 people, with Norfolk and Suffolk expected to be the hardest hit by potential job cuts.
A spokesman for the union said the workforce there would be cut from 217 to 128.
"This is a tragedy for offenders and victims with whom we work and for the affected staff and their families," said Rob Palmer, chairman of the East Anglia branch.
Sodexo Justice Services refused to comment on the suggested number of job cuts.
A spokesman said: "We are in the process of sharing our future plans with employees across the six CRCs that we operate, including Norfolk and Suffolk CRC.
"Given that we will be formally consulting on these plans, it would be inappropriate to comment further at this stage."