Costessey academy teaching assistant 'sent bomb threat'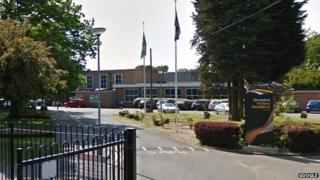 A teaching assistant has been charged with using a pupil's email account to make a bomb threat against the school where she worked.
Zoe Gregory, 26, is accused of sending a message claiming an explosive had been left at Ormiston Victory Academy in Costessey, Norfolk, on 9 February.
The 16-year-old girl's home was raided and she was questioned over the threat by police.
Ms Gregory has been bailed to appear before Norwich magistrates on 14 April.
She has been charged with communicating false information and unauthorised computer access.
Ms Gregory, of Blackhill Wood Lane, Costessey, has been dismissed from her role, said a school spokeswoman.