Oulton Hall fire: Norfolk investigators probe cause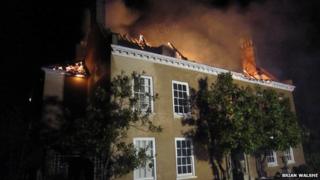 An investigation is under way into the cause of a fire in Norfolk that gutted a manor house, parts of which date back to the 1500s.
About 50 firefighters tackled the blaze that engulfed four floors of Oulton Hall, near Aylsham, after it broke out at about midnight on Tuesday.
Firefighters returned to inspect the site on Wednesday morning.
Incident commander Pete Rowe, of Norfolk Fire Service, said the blaze had caused "enormous damage".
He said: "The crews have done very well to contain it to the main hall itself.
"It's privately owned so it's someone's home."
No-one was hurt in the fire, which took four hours to get under control.
A spokeswoman from Norfolk Fire Service said there was no information yet as to how the blaze had started.
Most of the Grade II-listed Oulton Hall dates back to the 18th Century, but parts of it were built in the 16th Century.