Great Yarmouth candidate's election posters vandalised and defaced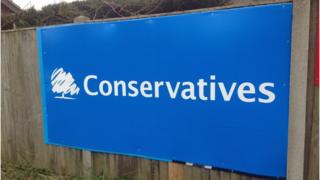 More than 50 Conservative election posters have been vandalised in Great Yarmouth since the start of the election campaign, the party has said.
Brandon Lewis, standing for Great Yarmouth, said the worst incident was outside Scratby where a poster had been cut to look like a swastika.
"These mindless people would rather vandalise election posters than engage in political discussion," he said.
Mr Lewis has reported the vandalism to police due to the scale of the attacks.
Swear words had also been scrawled across other posters.
His election agent is due to meet police officers.
"We are replacing the posters as soon as we find one has been vandalised and we have plenty of them," said Mr Lewis, who won the seat in 2010 and has been a local government minister.
Party workers discovered 22 defaced or destroyed banners over the weekend, with most on private land.
In addition, a further 31 have been attacked since posters were put up at the start of the election campaign.
Other candidates who have declared as standing in the constituency are Alan Grey (UKIP), Lara Norris (Labour), Harry Webb (Green Party) and James Joyce (Liberal Democrats).