King's Lynn cockle boat Baden Powell heads to Essex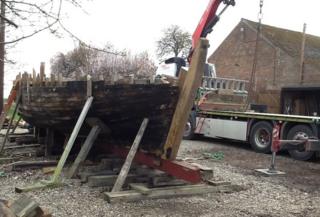 A historic Norfolk cockle boat is heading for Essex for the latest stage of a £100,000 restoration project.
The Baden Powell was built in 1900 and is believed to be the last surviving double-ended cockler.
The King's Lynn Worfolk Boat Trust hopes to get the boat sailing again on the River Great Ouse and the Wash.
After initial work carried out by volunteers, the boat has been taken to a professional boat builder at St Osyth, near Clacton.
The 34ft (10m) long wooden craft was one of 600 built by Walter Worfolk's company in King's Lynn.
Tim Clayton, chairman of the trust, said: "It's historically a very important boat and well worth doing the restoration for.
"When you've got volunteer workers, six chaps doing one day a week, the progress is very slow indeed.
"We've fitted a new keel, floor frames and some planking, but now we're in a position where we can pay a professional chap to do the rest for us."
Walter Worfolk's sons Gerald and William continued building wooden boats in King's Lynn until 1981, when Gerald died.
The trust was given £76,300 from the Heritage Lottery Fund and it intends to use the boat for school visits and as a training vessel for Sea Scouts.
The restoration has been using larch harvested from Norfolk, which was being transported with the boat, to Essex by lorry.