Norwich shoplifter Christine Carriage steals more than 1,000 items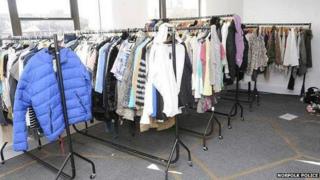 A "prolific" shoplifter has been sentenced after admitting stealing more than 1,300 items of clothing and sundries, police said.
Christine Carriage, 67, of The Runnel, Bowthorpe, in Norwich, pleaded guilty to the possession of criminal property to the value of £5,620.
Police seized the goods after a search at the address in November 2013.
She was given a six month prison sentence, suspended for 18 months, at Norwich Crown Court on Wednesday.
The items were found in the garden, garage, cupboards, bedroom and dining room at The Runnel property with 340 items, mainly clothing for men, women and children, still having their price labels attached, police said.
More than 210 items of clothing and sundries were still packaged and unopened.
Carriage was also sentenced to 120 hours unpaid work and given an £80 victim charge.