Army's Light Dragoons say farewell to Dereham for last time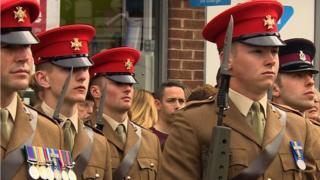 Soldiers from the Army's Light Dragoons have marched through a Norfolk town for the final time, cheered on by about 4,000 well-wishers.
About 250 men and women from the regiment took part in the farewell parade in Dereham.
They are relocating from nearby Swanton Morley to Catterick in North Yorkshire.
During their 15 years at the Robertson Barracks, the regiment has served in Bosnia, Iraq and completed four tours of Afghanistan.
"It's been a very challenging experience - it's been character-building," said Sgt Gary Delaney.
"We've been through some interesting times but it's all what we sign up for."
The Army regards the light cavalry regiment as its "eyes and ears on the battlefield".
Three military vehicles joined the parade as well as the Band of the Royal Armoured Corps.
The deputy lieutenant of Norfolk, brigadier Richard Heywood, took the salute and inspected the troops in the Market Place.
The regiment was granted the freedom of the town in 2009.
The group will hand over its barracks to another cavalry unit, 1st The Queen's Dragoon Guards, on 6 July.
The move comes as the Light Dragoons mark their 300-year anniversary.
Originally they were known as the Heavy Dragoons, with mounted soldiers.