Man held over Great Yarmouth Tesco bomb hoax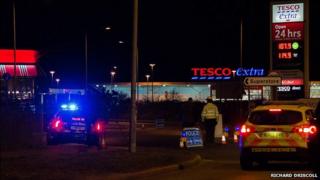 A man has been arrested over a bomb scare at a Tesco store in Norfolk.
A telephone threat was received at the Pasteur Road site on the afternoon of 6 March, forcing hundreds of people to be evacuated from the supermarket.
An army bomb disposal team from Colchester safely disposed of a suspicious package. Officers later confirmed it was a hoax.
A 42-year-old man from the Great Yarmouth area was arrested on suspicion of blackmail and bailed until 23 May.