Marshland St James fire victim 'humbled' by community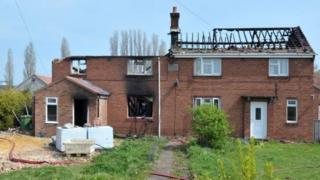 The victim of a house fire in Norfolk has said he has been "humbled" by the outpouring of community help after he was made homeless on Friday.
The fire at Richard Cavill's home in Marshland St James near King's Lynn also spread to the neighbouring home.
Villagers set up a fundraising campaign, which began at the village fete on Saturday.
It has raised about £900 and offers of re-building work have also been pledged from local traders.
Mr Cavill is now staying with his partner in Downham Market, while his neighbours have moved into a caravan in their garden on Trinity Road.
'Life-long friends'
Mr Cavill, who believed a heater caught fire in his lounge, said offers of support came in in "a matter of hours".
"I do feel very humble with this outpouring of help - the community spirit is fantastic.
"Obviously, I feel guilty for the neighbours, so I'm trying to do as much as I can and my family's decided to provide them with a larger static caravan."
Pete Johnson, from the village, helped set up a Facebook appeal page and he said offers of help have come from a builder in Wisbech as well as scaffolders and plasterers.
"We just couldn't believe what happened and wanted to get them back in their homes sooner rather than later," he said.
"Even if they are insured it can take months and we're trying to help them now.
"We didn't really know them before this and now we're going to be life-long friends."
Suzanne Wabe, another villager agreed to take in donations of clothing and other household items.
"We're just overwhelmed at what people have dropped off."