Storks brought to Norfolk's Shorelands Wildlife Gardens, Diss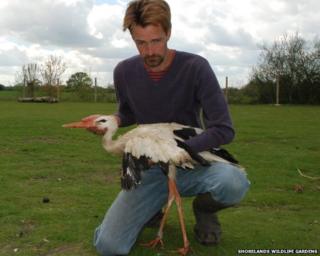 A wildlife centre in Norfolk has taken in 22 storks that had injured themselves hitting power lines in eastern Europe.
The white storks were at a rehabilitation centre in Poland, but they needed moving to avoid the cold winter there.
Shorelands Wildlife Centre near Diss will continue the treatment process.
The centre hopes to use the birds for breeding and introduce their offspring into the wild in East Anglia.
The birds were transported by road in cardboard boxes from Warsaw to their new home in Langmere.
'Farmer's friend'
The rescued storks will not fly again, so could not survive in the wild.
Ben Potterton, of the Shorelands centre, said: "We picked out the ones that can cope as a group and they have settled.
"In Europe, they can be seen behind tractors eating moles, rats and mice, so they're known as the farmer's friend.
"Long-term we will look at breeding the storks and sending their chicks to the Netherlands or they will become part of a plan to re-introduce the species to the east of England."
The centre said the birds used to be common in the UK in the 15th Century, but became rarer and disappeared as folklore heralded them as snatchers of babies, and they became targets for hunters.
Shorelands said it already had a captive pair nesting on-site, but the the last wild nest to be recorded in the UK was in Edinburgh in the 15th Century.
A pair were believed to have settled on Halvergate Marshes near Great Yarmouth in 1967, but there was no record of a nest.
Mr Potterton said a pair had been recently spotted flying in the Norwich area and another pair had been seen around Lowestoft.