Norfolk £144m schools building programme approved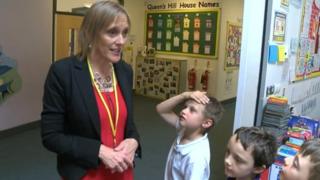 Norfolk's education department plans to increase spending on new school buildings to £144m by 2018.
The county council has approved extra spending of £27m to address the condition of existing buildings and £26m to deal with a growth in pupil numbers.
Plans include building a new £7m academy in King's Lynn for children with special education needs.
A new Chapel Road Complex Needs School, in Old Buckenham, would cost £13m.
The council, where no single party has overall control, has approved the revised spending programme which will affect 70 schools.
---
School capital spending proposals - projects over £5m
New West Norfolk Specialist Academy, King's Lynn, £7m
Replacement Chapel Road Complex Needs School, Old Buckenham, £13m
New Attleborough school as part of primary reorganisation, £8m
Drake Infant School, Thetford as part of primary reorganisation, £5.8m
Queen's Hill Primary, Norwich, expansion £5.8m
Trowse Primary, new building, £5m
Gayton Primary, King's Lynn, new building, £5.5
Great Yarmouth School reorganisation, £11.2m
Wymondham School reorganisation, £5m
Source: Norfolk County Council
---
The council said there were about 101,000 children of school age in Norfolk but an extra 8,000 primary and 2,200 secondary schools places were needed over the next 10 to 15 years.
James Joyce, Liberal Democrat chairman of the children's services committee, said: "The number of children starting primary school has been increasing nationally and, in some areas, this pressure on places is likely to continue.
"We don't want children in overcrowded buildings or buildings that don't meet the needs of the curriculum.
"The programme is also aimed at creating additional spaces so children with special needs and disabilities can be taught as close to home as possible."
Des Hart, regional officer for the National Union of Teachers, said: "It is good news but it's long overdue.
"The message to the newly-elected MPs would be we need to put pressure on the government to increase spending on education to provide staffing, to allow education to move forward."
---
Case study: Queen's Hill Primary, Norwich
The school opened in 2008 with 29 children and it has grown to serve 350 pupils who live in the Costessey area.
The £5.8m of funding will double the number of places to 630.
Penny Sheppard, head teacher, said: "We are fortunate to be able to expand but it is needed because Costessey is growing and there just aren't enough places.
"This part of Norwich is an area of [housing] growth and there's a lot more planned, so the area is in high demand for additional school places."
---