Norwich fans 'gutted' over Wembley match ticket sale decision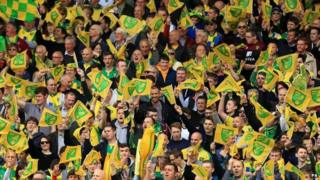 Norwich City fans have expressed disappointment at a decision not to put play-off final tickets on general sale.
The club said tickets to see Norwich play Middlesbrough at Wembley on 25 May would only be sold to season ticket-holders and priority members.
On Facebook, one fan said she was "absolutely gutted," while another said it was "a disgraceful move from a club that's usually so welcoming".
Norwich City has been asked by the BBC for a comment but has yet to respond.
Chairman of the Canaries Trust supporters' trust, Robin Sainty, said he could understand the club's reasoning but had "every sympathy" with people who could not get tickets.
"Unfortunately in any scenario where demand vastly exceeds supply, people will be disappointed," he said.
"It would be great for everyone to get a ticket, but the simple fact of the matter is the club has had to make decisions.
"It's difficult to argue that all of your season ticket-holders or priority members having a ticket is a bad way of going about it."
The club, which has about 22,000 season ticket-holders, said it had been allocated 38,888 Wembley tickets for the Championship play-off final.
From 18:00 BST on Wednesday, season ticket-holders and members will be able to purchase one extra ticket each, which the club said were expected to sell out quickly.
Fans who sign up for a £20 priority membership are among those eligible to purchase any remaining tickets, the club said on its website.