James May inquest: Hospital staff should have called consultants, says coroner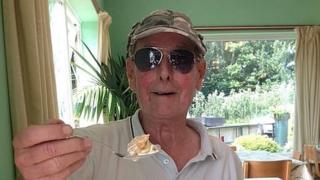 Two on-call consultants should have been asked to come in to a hospital on the night a collapsed man was taken there, a coroner has said.
James May, 76, died of natural causes at the James Paget Hospital (JPH), Gorleston, Norfolk, in September 2013, coroner Jacqueline Lake found.
Ms Lake said the senior consultants should have been called in to the busy hospital.
She said she was "surprised and disappointed" they had not been.
Mr May collapsed at Hemsby Bowling Club.
The inquest heard earlier that Norfolk and Norwich University Hospital (N&N) was considered the best place for treating people with heart problems out-of-hours after specialist staffing levels were reduced at the JPH in about 2007.
But the East of England Ambulance Service (EEAS) crew decided Mr May's heart problems were not so serious that treatment at the N&N was necessary.
They recognised there was an "element of risk" but decided to take him to the nearest hospital, the JPH, the inquest was told.
Nurses earlier told the hearing the accident and emergency ward was particularly busy that night and senior doctors were dealing with two people with serious heart problems, Mr May and a second man referred to as Patient A.
The inquest heard that two senior consultants should have been called in to the hospital.
Ms Lake said: "I accept that neither of the consultants were called in and I am of the view they should have been called in."
She said junior doctors should be encouraged to call them if the situation was repeated.
But she said she felt the decision to take Mr May to the JPH was correct.
JPH medical director Nick Oligbo said the regional cardiology centre and EEAS were still reviewing whether to change guidance to ambulance crews.
Following the inquest, he said: "We note the coroner is satisfied that the James Paget University Hospital has taken, and continues to take, steps to learn lessons from those events."