Roudham train and tractor crash passengers recall 'terror'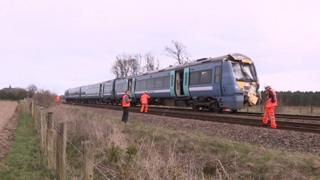 Passengers have been describing the "terrifying" moment they thought their train would derail after it hit a tractor in Norfolk.
The crash, at about 12:30 BST on Sunday at Roudham, near Thetford, left the tractor driver seriously injured and several passengers and the train driver with minor injuries.
Chris Last, from Brighton, said he thought the train would tip over.
He sustained minor cuts but praised the driver and emergency services.
The 12:03 Abellio Greater Anglia service from Norwich to Cambridge was travelling at high speed when it hit the tractor on an unmanned level crossing.
The tractor was pushed out of the train's path and into a field.
The tractor driver was airlifted to Norfolk and Norwich Hospital with serious but non life-threatening injuries.
'Carnage'
About 10 people were treated at the scene, the ambulance service said.
Mr Last, who sustained minor cuts and "aches and pains", said the passengers' injuries were relatively minor "compared to the carnage there was".
He described a "loud bang and a hell of a jolt".
"Bits of the tractor shot down the side and took out some of the windows. I was covered in broken glass," he said.
"The train was rocking and grinding, I thought it was going to tip over but thankfully it didn't. It was pretty terrifying."
Another passenger, Alex Youngs, heard "an almighty bang".
"What followed from that was showers of glass from the imploded windows... a few people screaming and then suitcases flying around," he said.
"Everyone was just sort of holding on because no-one knew what was coming next and it did feel as though we might derail."
Mr Last described the train driver as "an absolute hero... going up and down the train making sure people were OK".
The Rail Accident Investigation Branch and British Transport Police are investigating the incident.