Stag party rescues Norfolk Broads police truck from mud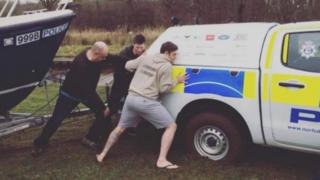 A stag party came to the aid of police after their vehicle got stuck in mud on the Norfolk Broads.
Members of the 16-strong group helped to free the truck, which had been towing a water patrol boat, at the weekend.
Norfolk Police posted pictures of the recovery on Instagram, commending the group for "mucking in".
The force thanked the unlikely rescuers for their assistance in liberating the "stuck truck" and Broadsbeat boat.
The unit is based at Hoveton and polices the Broads "year round".