Appeal after man in wheelchair robbed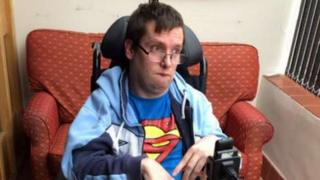 A crowd-funding appeal has been set up for a wheelchair-bound man who was robbed while he waited for a bus.
Danny Barrett, who has cerebral palsy, refused to hand over money to a thief in Castle Meadow, Norwich.
The man reached into Mr Barrett's pocket and took his wallet, which held £10 for emergencies. Norfolk Police have called it a "sickening crime".
Penny Brown set up the donation page after hearing his story on BBC Radio Norfolk and is hoping to raise £200.
"It got to me that someone could do that to someone just going about their business," Ms Brown said.
"My idea is to pay for him to have a day out - maybe we could all show that Norwich cares.
"Within half an hour, I had £50, so people have been very kind already."
PC Michael Pearce said it was believed several people were nearby when Mr Barrett was robbed at the bus stop outside Paxon and Thomas Optometrists at 20:50 BST on 11 April.
The suspect is described as white, tall, with very short brown hair and wearing a grey hat and black jacket.